Our Arabian Stallions


Introducing Our Gorgeous Arabian Stallion, "Thunder"!!
"Chocolate Thunder"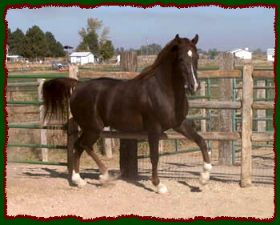 (Click to enlarge - Photo by Linda Black 2001)
15.2 Hand Liver Chestnut Arabian Stallion
DOB: 5/04/93


Click here to see Thunder's complete pedigree!

Meet Thunder!! Thunder is the latest and greatest addition to our horse family. Standing at 15.2 hands, he is the 'tall, dark and handsome we've been looking for! Thunder is almost entirely Egyptian, with a dab of Crabbet and Polish. He's double bred Fadwa, and is also a Morafic descendent. Thunder's got all the chrome you could hope for, with a star, strip and snip, and four white socks. He also passes this added bonus of color onto his foals... which we can't wait to see for ourselves! He will be introduced to our mares in July and August of 2002!

We are considering a limited number of introductory outside breedings to Thunder for the remainder of the 2002 breeding season. If you are interested, please contact us for specific information! Thunder will DEFINATELY be available for outside breedings to qualified mares in 2003!

BLOODLINE PERCENTAGES
FOR CHOCOLATE THUNDER:


Crabbet/Blunt = 34.5367
GSB (incl. Crabbet) = 32.2418
Davenports = .976562
Polish = 3.4668
Egyptian = 89.5927
WK Kellogg = 3.125
CMK = 38.8824
Dickinson/Travelers Rest = 3.90625
Abbas Pasha Source = 34.1828
WR Brown/Maynesboro Stud = 1.5625
Abbas Pasha/Ali Pasha Sherif Source = 52.0859
Babson Egyptian = 19.5313
Old Babolna (pre-WW II) = .559996
Old German (Weil) = .048827
North American Desert Source = .976562
Early American Foundation (vol V) = 31.25
American (thru vol VIII) = 31.25
American Foundation (thru vol X) = 43.75
American (thru vol XV) = 56.25
El Emir = .004577
Mesaoud = 6.23627
Ghazala = 2.03857
Skowronek = 1.51367


"Apple Jack" (aka, A.J.)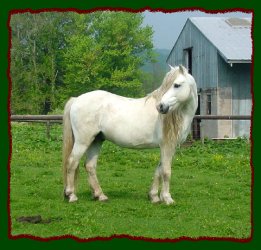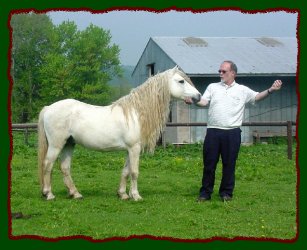 (click photos to enlarge)
Gray Welsh Pony Stallion
DOB 1990



A.J. (Apple Jack) is the sire to all of our Welsh/Shetland ponies and Welsh/Arabian crosses that we offer for sale. A.J. is a full blooded unregistered Welsh stallion. When we purchased him we discovered his previous owners failed to register him. We quit trying after several failed attempts to get him registered and decided papers or no papers, he has fantastic babies for us and that is what is most important. From their personalities to their build and everything in between, A.J.'s offspring consistently prove to be above and beyond anything we could have imagined. A.J. has produced somewhere in the neighborhood of 40+ foals over the last 10 years on our farm and his babies continue to impress us.




"Zanadoo"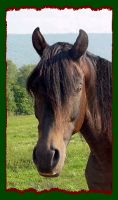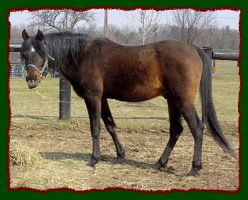 (Click photos to enlarge)
For Reference Only ~ Zanado has been sold!
15.1 Black/Bay Arabian Stallion
DOB: 2/08/82

Pedigree to be posted!



Zanadoo was our breeding stallion for 4 years, and was sold in March of 2002. He is the sire of two of our future brood mares, Abby and Zannie, and we have 3 foals coming sired by him in 2002. He carries predominantly Egyptian Arab lines, including such notables as Surf (his Grand-Sire), *Morafic (his Great Grand Sire), Nazeer, and *Raffles. Zanadoo is now living in Tennessee and his new owner is using him for light breeding and trail riding. It was difficult to see him go, but the time had come for a new bloodline in our herd. Zanadoo is greatly missed, but we are happy to hear he's adjusting well to his new life as a "southerner" We hear that at feeding time Zanadoo says,'"Ya'll...I sure am hungry!!!"


Tracie Dershem
184 Timber Lane
Linden, Pa. 17744
(570) 398-4454
Jim & Carol Lucas
283 Timber Lane
Linden, Pa. 17744
(570) 398-0160
Peppy says, "Email Us!"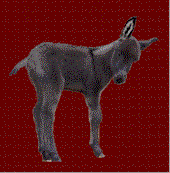 shorecrestfarms@yahoo.com

Logo Design by Lisa Calhoun
Last Updated April 30, 2006
Web Mastering by Dayle Haworth
All other graphics designed by Julia Vaughn